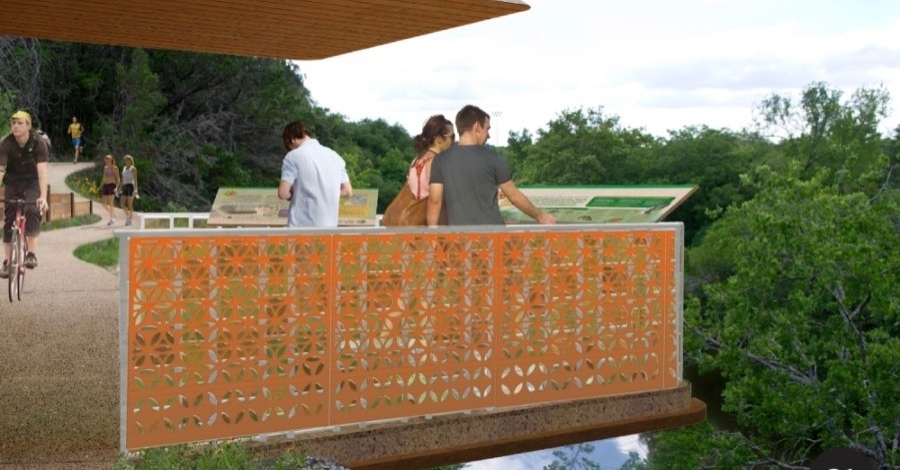 Heritage Trail West Project Completion Delays Following Contractor Bankruptcy
The Heritage Trail West project will experience delays to its completion date as the Town of Round Rock seeks a new contractor to undertake the project. (Rendered courtesy of the City of Round Rock)
The Heritage Trail West project will experience delays to its completion date as the Town of Round Rock seeks a new contractor to undertake the project.
During the city council's semi-annual retreat and business session, parks and recreation manager Rick Atkins said the project was being delayed due to the bankruptcy filing of the original contractor, Ritter, based in Pflugerville, Botkin Prime Construction Co. in late 2021.
"We worked with a surety company," Atkins said. "We met the surety [in the] first part of December to figure out what the process was going to be ourselves and legal."
Atkins said the bond is evaluating potential contractors to complete the project, but those potential contractors already have enough projects to delay their start on Heritage Trail West for another four to six months.
"We're at the mercy of whoever the bond chooses," Atkins said.
The surety meets with the contractors to determine who will complete the project, according to Atkins, and the project will be resubmitted through that entity. The project will not return to the town hall to be re-submitted.
Delays could ultimately push the project's completion date to 2023, according to the city.
The Heritage Trail West project is funded by the 2013 bond, connecting the approximately 1-mile span between Chisholm Trail Road and North Mays Street along Brushy Creek. The city originally awarded the $7.3 million contract to Ritter, Botkin Prime Construction Co. in June 2020.
Calls to Ritter, Botkin Prime Construction Co. show the phone number is disconnected and the contractor's website is no longer available.