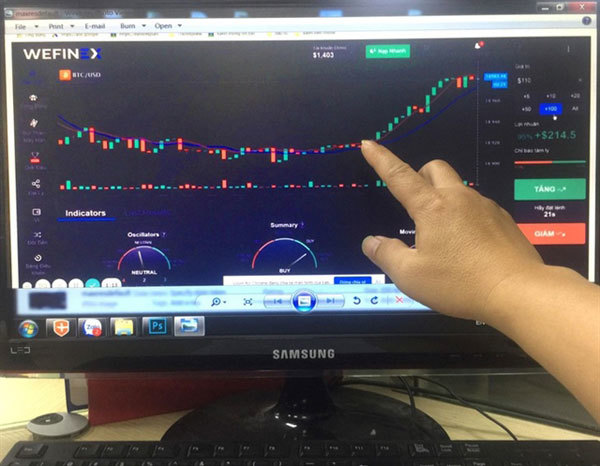 Legal framework necessary to manage virtual financial investment platforms
An investor views a financial investment website on his computer. Several platforms have suddenly collapsed recently, showing signs of fraud. — Stock Photo baodauthau.vn
Several platforms suddenly disappeared in recent months and thousands of investors claimed to have lost huge amounts of investment.
Economic experts and management agencies have consistently warned of the risks of virtual financial investment platforms, but investors have been tempted by skyrocketing returns.
Busstrade and Coolcat were among the platforms that suddenly disappeared over the past two weeks. These websites cannot be opened, investors cannot access their accounts and withdraw their money, and they have no way of contacting the administrators of the websites.
Ads for financial investment platforms abound on websites, Facebook, Zalo and other social networks, many of which offer returns of up to 30% per month.
Financial and banking expert Nguyen Tri Hieu said financial investment platforms often use traps to attract investors. At first, investors received interest on time and adequately, but when they put a large sum of money in their accounts, these platforms suddenly crashed and investors lost their money.
Hieu said some platforms had no specific address and could not be found when they collapsed.
He warned that it was a fraud.
"If it's not clear who you're dealing with and where you're putting the money, just through websites, that's definitely a trap," he said.
According to economic expert Phan Phuong Nam, it was a form of investment linked to foreign exchange (forex) which was not recognized by the laws of Vietnam. So far, no company is officially recognized as a forex investment company in Vietnam and allowed to directly collect investments from individual investors.
Nam also pointed out that there was a lack of mechanisms to protect investors on these platforms.
Nguyen Hong Bach of law firm Hong Bach and Partners said that like forex, cryptocurrencies are also not recognized as a legal means of payment and all transactions related to cryptocurrencies are not not protected by law in Vietnam.
The State Bank of Vietnam and the Ministry of Public Security have warned of the risks of investing in cryptocurrencies, he said, urging investors to be very careful when investing in these. platforms.
Management agencies have also warned against some forex and cryptocurrency platforms such as wefinex.net, raidenbo.com and bitono.io.
Experts said it was important to educate citizens to stay away from these forms of fraud.
In the long term, Vietnam needed to develop a legal framework to control the operation of these platforms as well as strict punitive measures to prevent violations.
Late last week, Hanoi police prosecuted two people in HCM City and one in Hanoi for allegedly appropriating property via the internet. Initial investigation revealed that they were appropriating investments worth a total of US$4.3 million from 12,000 accounts across four gold and forex platforms, namely rforex.com, Yaibroker , Vistafore and Exswiss.
VNS
The Ministry of Finance is studying the legal framework for cryptocurrencies
The Ministry of Finance is studying the legal framework for managing cryptocurrencies on the stock exchange that would pave the way for legal cryptocurrency transactions in Vietnam.
Legal framework to be improved to promote e-commerce and prevent commercial fraud
Vietnam is improving its legal framework to promote the development of e-commerce with emphasis on commercial fraud prevention.